THINKWARE DASH CAM X550
Super Night Vision / Time Lapse
1080p Full HD & Full HD 2CH / 30fps / DUAL SAVE™ / Road Safety Warning System
Safety Camera Alert/ Built-in GPS
SUPER NIGHT VISION / TIME LAPSE
2016 Latest Features in-built in the Thinkware Dash Cam F770 –
SUPER NIGHT VISION
Capturing video in extreme low-light conditions such as dimly lit parking lots and streets
often results in recording of poor quality video or in many cases, complete darkness.
The Super Night Vision, proprietary night vision video processing technology by Thinkware dash cam,
achieves impressive high-sensitivity performance increasing the brightness levels up to 1000% during nighttime with reduced noise in low-light
conditions by taking advantage of new image signal processing (ISP) technology.
TIME LAPSE
Parking Mode feature allows you to leave your car and be sure the dash cam will provide surveillance for the vehicle while you are away.
The new Time Lapse feature takes parking mode a step further, providing improved coverage by recording for extended period
of time compared to existing parking mode.
Recording at 1 frame per second, the time lapse feature enables the dash cam to record parking mode videos 16 times longer
than the regular parking mode by reducing video file size allowing
This feature also allows video playback at 15x speed, reducing viewing time to scan through many hours of video footage.
SAFE ON THE ROAD
THINKWARE Dash Cam X550 not only acts as a reliable eyewitness in the case of an incident, it is also your best protection against insurance frauds and road
accidents. Equipped with the Road Safety Warning System that provides alerts for Lane Departure and Front Collision, the X550 detects road markings and gives
voice warnings to the drivers if the vehicle begins to stray from its lane or when it is at risk of an imminent collision. Such advanced technology that once could
only be seen in the best luxury sedans is now available in our dash cams to provide convenience and safety while aiding drivers on the road
 
 

Lane Departure Warning System (LDWS

)

Alert drivers when vehicle strays out of lane

 Front Collision Warning System (FCWS)

Alerts when approaching too closely to the vehicle ahead to avoid collision
Safety Camera Alert
Exclusive safety feature from THINKWARE – The Safety Camera Alert powers THINKWARE Dash Cam to be on continuous alert for
photo enforcement locations on your driving routes while recording high quality videos at the same time.
THINKWARE Dash Cam provides active warning for these 5 types of road safety cameras.
Capture the Crucial Moments in Full HD
With a 1080p Full HD Front and Rear camera, the X550 is able to record pristine quality video that captures the crucial details of any incidents you may encounter while driving.
Recording at 30 frames per second without dropping a single frame, you can rely on the X550 to capture every moment of your commute in high definition – be it an accident or an unexpected hit-and-run.
See more with a 140˚ Wide Angle View

The THINKWARE Dash Cam X550 has a 140˚ wide viewing angle for maximum visibility, capturing a wider view of the roads.

Strong Processor for Speedy Performance

The high specification Ambarella A7 CPU minimizes power consumption while providing optimal performance.

Tested and proven in various high quality action cameras, the processor ensures a stable and uninterrupted performance while the X550 performs various tasks.

 
 

Built-in GPS tells you the whole story

With a built-in GPS antenna, the X550 embeds speed, time and location data to the recorded videos to give you all the crucial information you need after an incident.

The user can also review their driving route and history with the integrated maps function in the THINKWARE PC Viewer.
DUAL SAVE TECHNOLOGY
This technology is specially designed to save recorded footage in both Micro SD and NAND Flash Memory when a certain level of impact is detected. This is particularly useful if the Micro SD card is removed or damaged due to the impact of a collision. With the Dual Save Technology that also saves footage in the NAND Flash Memory, you do not have to worry about it getting lost or damaged.
* Dual Save Technology is activated when a certain level of impact is detected as long as it is connected to a power supply (The impact detection threshold can be adjusted according to user preference).
MOUNTED 2.7 INCH CLEAR DISPLAY
You can view or retrieve real-time as well as recorded videos, change the settings and format your memory card on the LCD screen of the DASH CAM. The 2.7 inch clear display allows you to perform these tasks in your car without having to connect to a PC, MAC or smart device. X550 display comes with optimal specifications for displaying
clear and sharp images.
2.4 MILLION PIXEL HIGH RESOLUTION IMAGE SENSOR
The 2.4 million pixel high resolution SONY Exmor CMOS image sensor allows significant improvement in quality of not only nighttime but also daytime images. The X550 assures brighter and clearer resolution of all images captured.
SOPHISTICATED IMPACT DETECTION
The X, Y, Z axes of the G sensor allow you to measure fluctuations in gravity, speed or rotation. You can figure out the axial movement and impact during an accident at a glance
VIEWER FOR CLEAR AND PRECISE CONTROL OF VIDEOS
The intuitive and simple-to-use interface of THINKWARE DASH CAM allows you an easy and convenient viewing of your recorded videos. You can playback and download recorded videos along with your route history and speed record through the PC or Mac viewer. You can also change the dash cam settings, format the memory card, or install updates with just a few clicks on the viewer.
SUPPORTS VARIOUS RECORDING MODES AND AUTO MODE SWITCHING
THINKWARE DASH CAM X550 supports various recording modes depending on the status of the vehicle whether it is in motion or parked (continuous recording, incident recording and motion detection recording).
Using the hard wiring power cable, which is directly connected to the power system of vehicle, you can automatically switch between continuous recording mode and parking mode without turning the power on/off.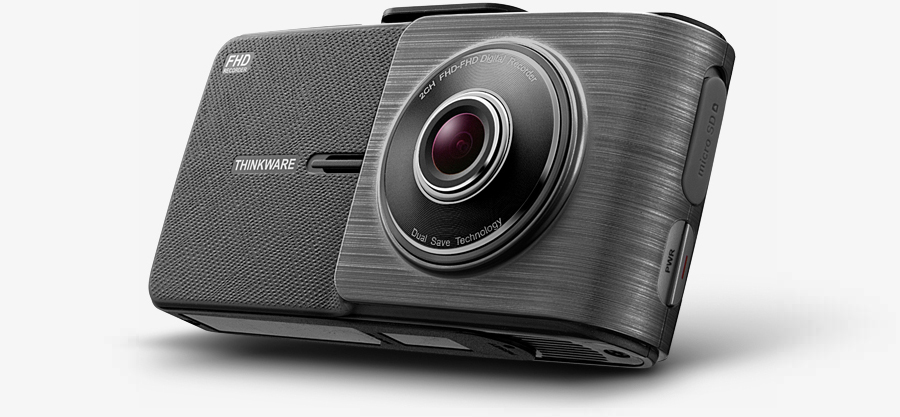 RECORDING TIME
THINKWARE DASH CAM allows you configure the default recording time frame. Depending on the battery condition and the weather,
you can adjust it from 1 hour up to 48 hours, for needed protection of your car.
Recording time
Video Quality
Full HD 30fps
Full HD + Full HD 30fps
Capacity
16 GB
124 min
62 min
32 GB
248 min
124 min
64 GB
496 min
248 min
* Memory space for the X550 can expand up to 64GB
* The lifetime of Micro SD Memory Card may vary depending on the usage environment. Its warranty period is six months.
PRODUCT SPECIFICATIONS

General Specifications
Dimension
104.3 x 51.4 x 29.3 mm / 4.1 x 2.02 x 1.15 inches
Weight
111 g(Excluding microSD) / 0.24 lbs
Package
Main Dash Cam Unit, Mount with 3M tape (1ea), Car Charger, Adhesive Cable Holder (5ea), Micro SD memory card with adapter (consumable),
USB Micro SD card reader, Quick Start Guide / Warranty / User Manual (stored in the Micro SD card)
Detailed Specifications

| | |
| --- | --- |
| Camera | 2.4M Pixels, 1/2.9″ (SONY CMOS Image sensor) |
| Display Panel | 2.7″ Clear Display (320×240) |
| Viewing Angle | Approximately 140° (diagonally) |
| Video | ALL Full HD (1920X1080) for front & rear view camera when connected |
| Capacity | Micro SD Card 16GB / 32GB / 64GB UHS-I |
| Recording Modes | Super Night Vision / Time Lapse / Continuous Recording Mode, Incident Recording Mode, Manual Recording Mode, Parking Surveillance Recording Mode,Audio Recording |
| Acceleration Sensor | 3-Axis Acceleration G-Sensor (3D, ±4G) |
| GPS | Built-in GPS (Glonass supported) |
| Power | Input Voltage: DC 12/24V (Max 35V), Power Cable Port x 1 (3.5pi) / Power Consumption: 5.3W (mean) – 2ch,30fps , 3.5W (mean) – 1ch,30fps / Super Capacitor |
| Interface | 1 x Video-IN (micro USB), DC-IN, Micro SD slot |
| ETC | Front Security LED |