Power your sub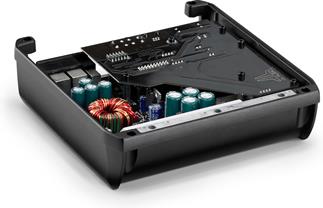 Compact design applies to internal components too.
JL Audio's XD300/1v2 amp packs a wallop far beyond what you'd expect from something so small. This amp plays bass with true fidelity and impressive impact, without straining your car's electrical system. A cast alloy heatsink and an advanced cooling system keep this amp at optimal temperature, eliminating thermal shut-downs so your music keeps going strong without interruption.
The XD300/1v2 mono amp delivers up to 300 watts RMS to your subwoofer, and its low-pass filter features a choice of slopes for better control over the character of your bass. A subsonic filter allows you to tighten up your system's kick and gets rid of any inaudible, low-frequency information that could detract from your sub's performance.
Works with almost any vehicle's system
"Differential-balanced" inputs keep the signals clear of outside noise, and allow you to connect this amp to just about any in-dash stereo, even a factory radio. The speaker-level inputs feature two auto turn-on modes so you can readily incorporate this amp into a factory system — no need for RCA connections or a remote turn-on lead. An optional wired remote lets you tweak the volume of your sub from the front seat.

                                         XD600/1v2 connection panel
READ LESS
Product highlights:
mono subwoofer amplifer
200 watts RMS x 1 at 4 ohms (300 watts RMS x 1 at 2 ohms)
variable low-pass filter (50-500 Hz, 12 or 24 dB/octave)
optional wired remote

 

level controller
Class D amplifier design with NextD™ switching amp technology
differential-balanced inputs eliminate noise coming from your vehicle's electrical system
Advanced Rollback Protection System prevents thermal shut-down
Connection Features
preamp and speaker-level inputs (speaker wire to RCA adapter required for speaker-level input)
high-level inputs — up to 8 volts RMS (about 16 watts)
DC offset or signal sensing auto turn-on eliminates need for remote lead
preamp outputs
8-gauge power and ground leads and a 30-amp fuse recommended — wiring and hardware not included with amplifier
no onboard fuses — when installing multiple amps in a system, an additional 30-amp in-line fuse between the distribution block and the amplifier is recommended
6-7/8"W x 2"H x 7-1/8"D
warranty: 2 years
Main Dash Cam Unit


SD card ( dependent on what size you selected)

Windshield Mount

Mount with 3M tape (1 each)

12V Power Cable or Hardwiring Cable

Adhesive Cable Holder (3 each)

Quick Start Guide

Warranty Card

Shipping

| Rate name | Conditions | Price |
| --- | --- | --- |
| Self Collection at ZMC Automotive @ Thinkware Service Centre* | SGD 0.00 and up | Free |
| Local Shipping | SGD 100.00 and up | Free |
| Orders Less than $100 | SGD 5.00–SGD 99.99 | SGD 20.00 |
*Kindly allow 1 Working day for the order to process from the day of order placement before self collection** at Thinkware Singapore.
*Self Collection at 50 Serangoon North Ave 4, First Centre #01-10, Singapore 555856.

For overseas shipping, please refer to table below:

| Rate name | Conditions | Price |
| --- | --- | --- |
| 1st tier | 1kg–5kg | SGD 50.00 |
| 2nd tier | 6kg–10kg | SGD 80.00 |
| 3rd tier | 10kg–15kg | SGD 100.00 |
| 4th tier | 16kg–30kg | SGD 150.00 |
Shipping

We strictly do not do returns and exchange. However if there's a manufacturer defect, the product will be covered under warranty. Please contact us with your request.